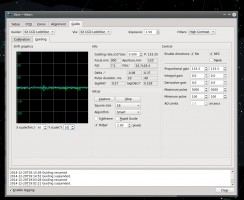 Ekos is an advanced Astrophotography tool for Linux. It is based on a modular extensible framework to perform common astrophotography tasks. This includes highly accurate GOTOs using astrometry solver, ability to measure  and  correct polar alignment errors , auto-focus & auto-guide capabilities, and capture of single or stack of images with filter wheel support. Ekos is shipped with KStars.
Features
Control your telescope, CCD (& DSLRs), filter wheel, focuser, guider, adaptive optics unit, and any INDI-compatible auxiliary device from Ekos.
Extremely accurate GOTOs using astrometry.net solver (both Online and Offline solvers supported).
Load & Slew: Load a FITS image, slew to solved coordinates, and center the mount on the exact image coordinates in order to get the same desired frame.
Measure & Correct Polar Alignment errors using astromety.net solver.
Completely automated scheduler to control all your observatory equipment, select the best targets for imaging given current conditions and constraints, monitor weather conditions, and capture your data while you are away!
Auto and manual focus modes using Half-Flux-Radius (HFR) method.
Automated unattended meridian flip. Ekos performs post meridian flip alignment, calibration, and guiding to resume the capture session.
Automatic focus between exposures when a user-configurable HFR limit is exceeded.
Auto guiding with support for automatic dithering between exposures and support for Adaptive Optics devices in addition to traditional guiders.
Powerful sequence queue for batch capture of images with optional prefixes, timestamps, filter wheel selection, and much more!
Export and import sequence queue sets as Ekos Sequence Queue (.esq) files.
Center the telescope anywhere in a captured FITS image or any FITS with World Coordinate System (WCS) header.
Automatic flat field capture, just set the desired ADU and let Ekos does the rest!
Automatic abort and resumption of exposure tasks if guiding errors exceed a user-configurable value.
Support for dome slaving.
Complete integration with KStars Observation Planner and SkyMap
Fully scriptable via DBus.
Integrate with all INDI native devices.