Ikarus Observatory (29.11° N, 48.10° E) is located in AlSabahiya, Kuwait. AlSabahiya city is located 32 km south of Kuwait city, and is part of the Ahmadi Governorate. With a population of approximately 80,000, it is a heavily populated residential area with high levels of light pollution and congestion.

The site weather is typical of a desert climate with short cold winters and hot long summers. Summers (April to October) are hot and humid with very little rain. Winters (November to March) are cool with limited rain. Springs are cool and pleasant. Summer starts in Kuwait from the month of April and continues till October. The summer months are extremely hot and dry and while the normal day temperature is 33°C, it rises up to 51°C (124°F), during the months of June, July and August, with very low humidity. The months of April and October are less harsh with temperatures slowly dropping below the 40s to lower 30s. Another feature of Kuwait's climate is that it never rains during the summer months and from June to September are regarded as the driest months.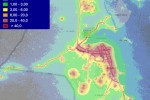 Kuwait gets about 300 clear nights per year making it a suitable location for observation. However, this is heavily negated by the severe light pollution, occasional dusty weather, and sub-par seeing. To work around the site limitations, Ikarus Observatory only utilizes narrow band filters for imaging purposes. Due to high sky glow, subs durations are typically between 1-5 minutes. Post processing of images is performed to minimize the background noise and other artifacts in order to boost the signal to noise ratio (SNR)
The observatory equipment are as following:
Ikarus Roll off Roof:

Ikarus Roll off roof is a custom built 4.5x5 meter insulated roof on a 4.3x9m steel tracks with 4 wheels on each track. The roof consists of a 7 cm insulated sandwich panel to protect against the elements and excessive summer heat. A modified 0.5 HP 240v winch motor is meshed with a 4.5m gear rack to unpark and park the roof.

Optical Telescope Assembly (OTA):

The OTA is an Orion EON 120mm apochromatic refractor. The EON 120ED's optics consist of a fully multi-coated, air-spaced 120mm objective doublet lens of exceptional quality, containing one element of FPL-53 extra-low dispersion "ED" optical glass.
| | |
| --- | --- |
| Optical Design | Refractor |
| Optical Diameter | 120mm |
| Focal Length | 900mm |
| Focal Ratio | 7.9 |
| Optics | Air-spaced doublet |
| Glass Material | Extra low dispersion FPL-53 |
| Resolving Power | 0.97 arcsec |
| Optical Quality | Diffraction limited |
Orion HDX110 (EQ8) Mount.

The HDX110 EQ-G Mount head features 8.6" diameter (219.5mm) Right Ascension (RA) and Declination (Dec) worm wheels with 435 gear teeth for exceptional precision. The substantial 55mm RA and Dec shaft diameter further enhances stability. This mighty mount is equipped with an autoguider port, buttery smooth latitude jackscrew with a 10°-65° range, handy azimuth adjustment knobs (+/- 10° range from center), SNAP port (for DSLR shutter control), and more. This heavy-duty head-turner of a telescope mount features robust, state-of-the-art electronics, including high-resolution, micro-stepped stepper motors and patented dual-encoder technology that allows both automated GoTo operation and manual slewing, without losing the GoTo alignment. In fact, once a successful alignment has been completed, you can loosen the RA and DEC clutches and manually reposition the mount and attached telescope while still maintaining the GoTo accuracy once the clutches are relocked.

| | |
| --- | --- |
| Weight Rating | 50 kg |
| Tracking Rates | Lunar, Solar, and Sidereal |
| Motor Speeds | 3.4°/sec(800x), 600x, 500x, 400x, 64x, 32x, 16x, 8x, 2x, 1.75x, 1.5x, 1.25x |
| Motor Type | Microstep driven stepper motors |
| Bearing Material | Sealed ball bearings |